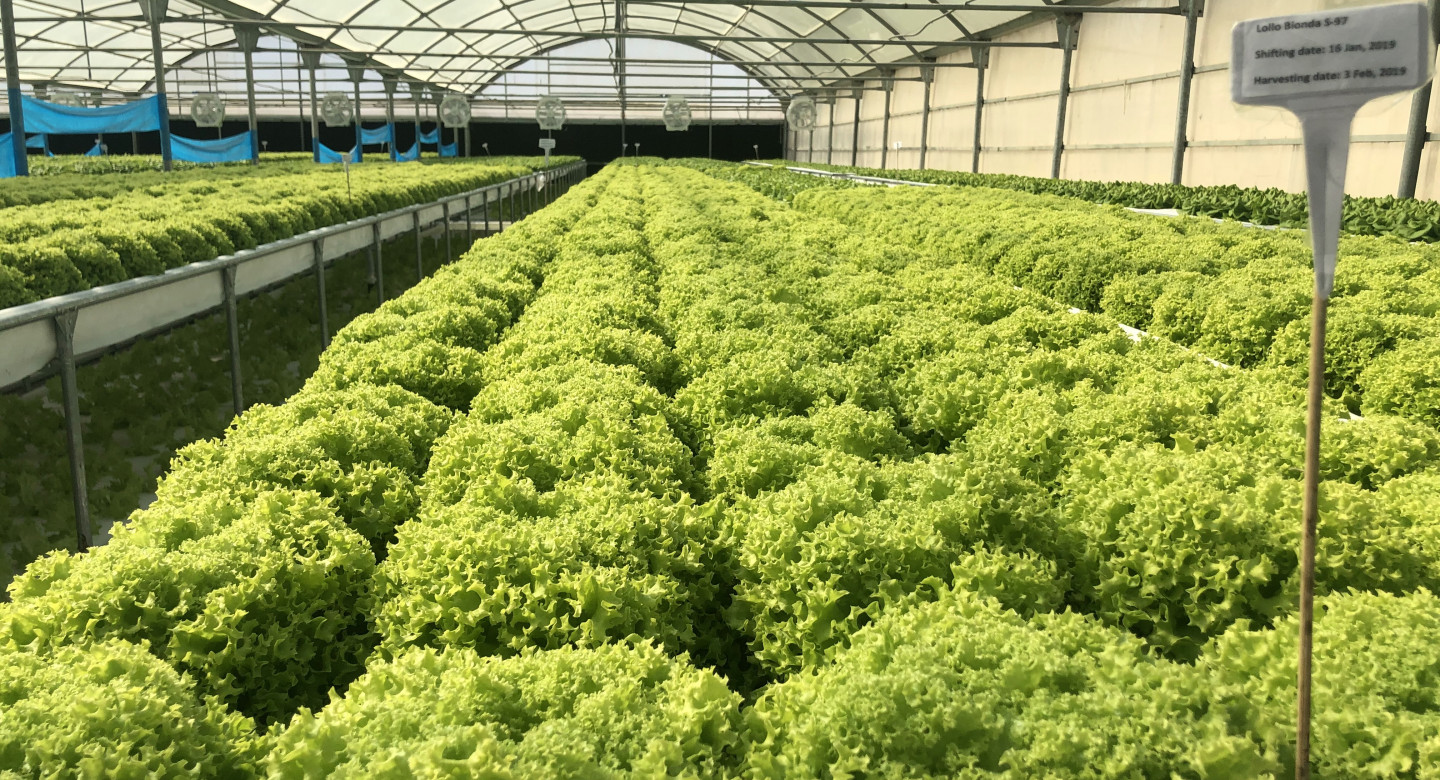 Armela Farms: farm the city to feed the city
To sustainably feed the world's largest urban areas, we need to bring food production back to the cities. In the United Arab Emirates (UAE), where large cities are surrounded by sand in almost every direction, climate and geography make this especially challenging. But not impossible. With agricultural technology and seeds from Dutch soil, sandy landscapes with limited water resources can feed some of the world's largest cities.
A frontrunner in food innovation
The UAE is on a mission to become more food self-sufficient. Instead of depending on imports, the country aims to produce more fruit and vegetables locally. This addresses two issues at once: it curbs food loss in the long transportation chain, while at the same time making the UAE less vulnerable to fluctuations on the world food market. With such an ambitious goal, collaboration is key. With our knowledge and expertise, we can support water scarce UAE to become a hub for innovation-driven food technology.  
Shortening the food chain
To achieve this goal, greenhouses are established all over the Emirates. One of them is Armela Farms, where a team of locals and expats grows a wide variety of lettuce, kale and baby spinach close to the world's most improbable green city: Dubai. The freshly picked produce is packaged quickly after harvesting, and shipped to the city. So all Dubaians can enjoy nutritious, pesticide-free foods, grown in their backyard.

And the Armela Farms team is ambitious. Already the largest producer of water-grown lettuce in Dubai, the new Abu Dhabi farm (expected February 2022) is set to become the largest fully automated data-driven commercial farm in the Gulf region. Currently, the Dubai farm produces 2.15 million lettuce heads (or some 540 tonnes) a year. The new Abu Dhabi farm will span over three hectares and is estimated to provide UAE residents with around 9 million lettuce heads a year, or roughly 2,300 tonnes.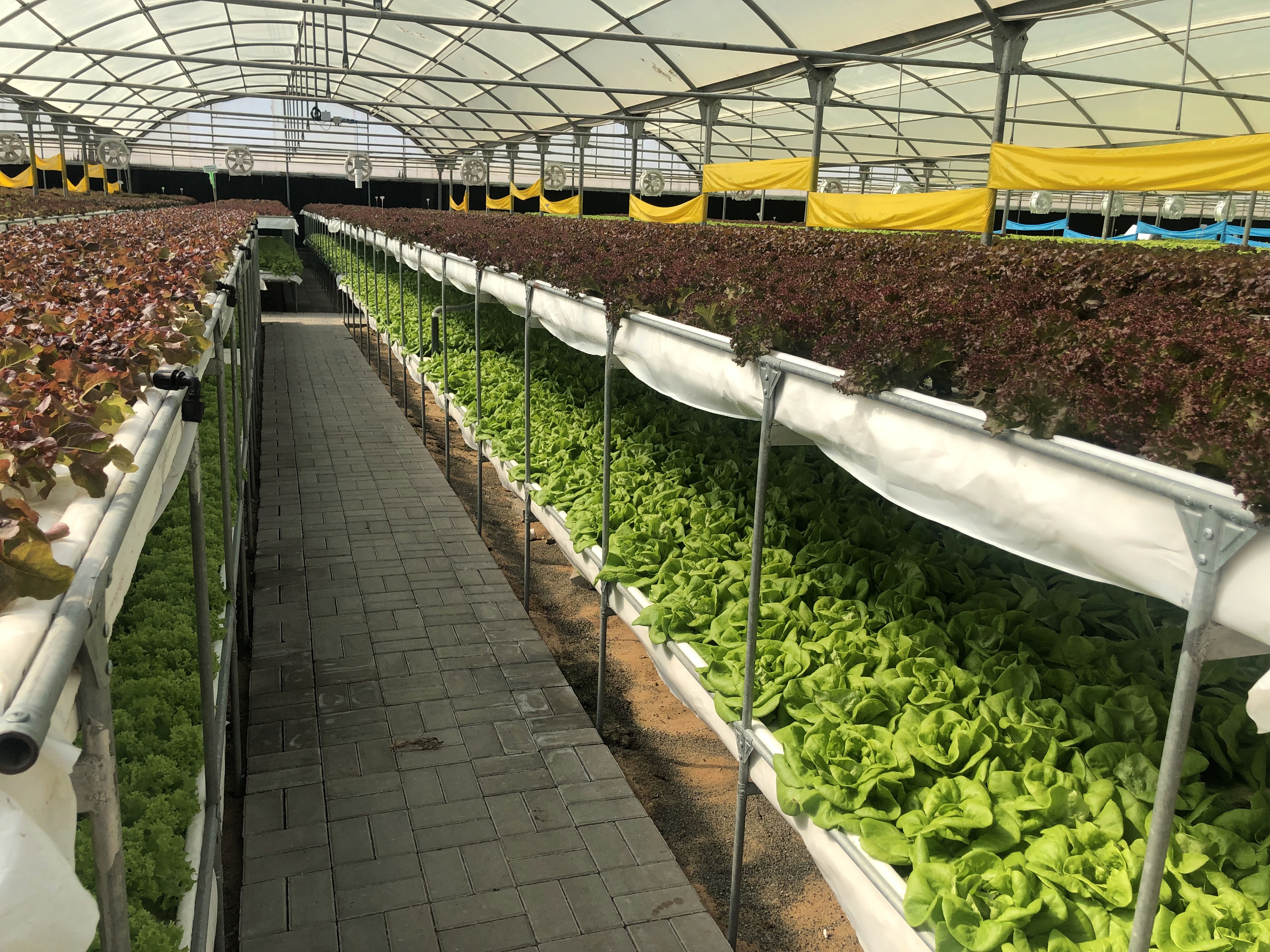 Growing crops without soil
How can the UAE, where water is limited, soil is salty, and climate conditions are hard, successfully grow so many crops? Well, by not using soil. Armela Farms uses a technology called hydroponic farming, where all crops are grown in water instead of soil. To increase efficiency, all the nutrients the plants require are controlled and supplied in the liquid used to water the plants. And this works wonders.

Limiting water usage is a continuous challenge for Armela. Traditionally, more than 80% of the water required is used for cooling. The new Abu Dhabi farm comes with a Hoogendoorn Growth Management hi-tech fully automated climate control system, which reduces water consumption to just 30%, while increasing production capacity by 60%. Furthermore, its closed loop irrigation structure requires 80% less water than regular farming and guarantees maximum productivity of scarce water resources.
From traditional hydroponic to data-driven
Through constant research and optimisation of technology, product varieties and climate conditions, the Armela Farms team has managed to increase its output by an impressive 250% since it started operating in August 2018.

In the new Abu Dhabi farm, Armela Farms aspires to take hydroponic farming to the next level with the help of Van der Hoeven and its Dutch and Belgian partners. Currently, Armela Farms already uses Dutch seeds (provided by Rijk Zwaan) and Priva fertigation units, but the new farm will intensify UAE-Netherlands cooperation. Together, this partnership will be responsible for building the most modern indoor farm in the region.

"The new facility will, for example, enable us to monitor the evaporation of a single plant at any given time and many other advanced parameters required for optimum plant grown and output," says General Manager Abu Jaish. A team of just 10 people will be able to provide Abu Dhabi with lettuce, kale and spinach all year round.


Armela Farms Abu Dhabi is a partnership between the Armela Farms and turn-key project supplier Van der Hoeven. Other involved parties include Hoogendoorn Growth Management, LetsGrow.com, Rijk Zwaan, Jiffy Groep, Koppert Biological Systems and Levarht.  
"The new facility will, for example, enable us to monitor the evaporation of a single plant at any given time and many other advanced parameters required for optimum plant grown and output"