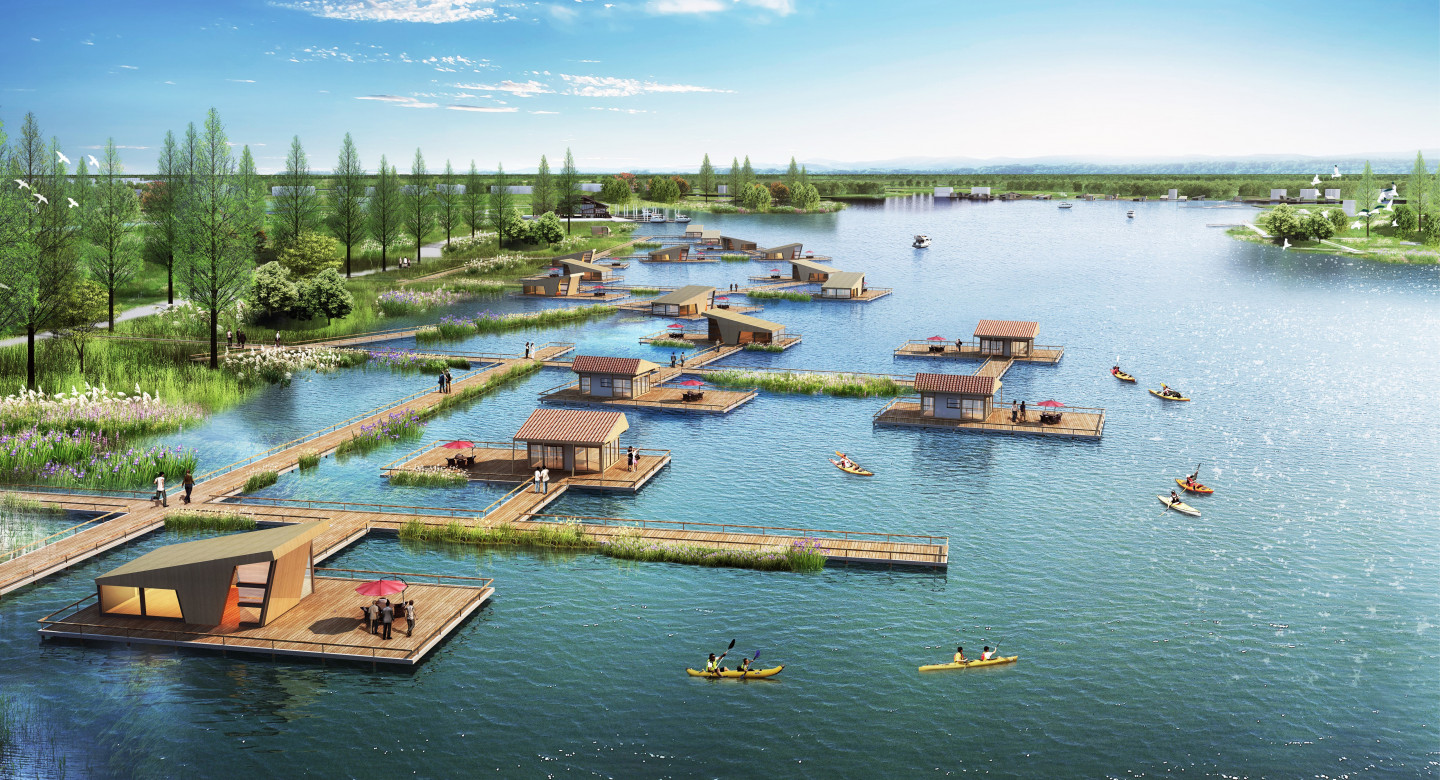 How sponge cities are keeping China's feet dry
Lush green roofs. Buzzing bee gardens. Lively large parks. It's a known fact that greenery makes cities more attractive, improving quality of life. But it's a lesser known fact that, when applied correctly, urban green spaces can make cities more climate resilient. In Shanghai, landscape architect Judith van der Poel, director at Niek Roozen Landscape, found a way that perfectly balances decorative green with functional advantages. This protects the Chinese metropolis from floods and drought, while simultaneously making it a better place to live for its many millions of inhabitants.
Across the globe, cities are adding green elements to help tackle the effects of climate change and excessive rainwater. This is great news for sponge cities, a new urban design concept that aims to absorb, treat and drain excess rainwater. Parks, trees and other greenery can help a city to hold more water, making it more drought and flood resilient. Landscape architect Niek Roozen, founder of the company, has spent the last 25 years shaping China's cities to find the perfect balance between functional and decorative green. As a result, many recreational spaces have also emerged. Judith van der Poel told us just how important these green practices are for the local environment in Shanghai.
"With population rising and climate change becoming more and more apparent, people all around the world are exploring potential technical solutions to make cities greener."
A commitment to green
A recent Intergovernmental Panel on Climate Change (IPCC) report showed that over 700 million people already live in areas susceptible to flooding. This is mainly due to increasing global temperatures and extreme rainfall.

But managing a metropolis is no easy feat. Especially with growing populations and changing climates. This is why the Chinese government has set a number of sustainable goals to keep its cities liveable. For example, they now require that at least 50% of new buildings be certified sustainable. Considering China is the largest construction market in the world, this can have a huge impact on the environment.
"China's policies and regulations on urban planning are different from those of the West. This means replacing old, damaged trees with newer, future-proof planting materials can be easily carried out. That said, we try our best to maintain the historic value of existing structures, and not start over from scratch. Research shows that a 150-year-old tree evaporates just as much water and stores just as much CO2 as 500 10-year-old trees put together. So, we try to maintain as many existing trees as possible."
Like a sponge absorbing water
It's quite well known by now that green spaces in a city can lead to air purification and help lower temperatures. But it can also help with water drainage. In concrete-dense cities, water often doesn't have anywhere to go. Adding greenery helps drain excess water as the soil acts just like a sponge. Water can then feed vegetation, evaporate and be stored for groundwater.

Due to its location along the coast of the East China Sea, Shanghai is highly vulnerable to flooding, both from torrential rains and storm surges. So, adding lots of green to this 6,340 km2 metropolis can have an immense impact in reducing floods. An added plus for the over 26 million people that live there is better well-being, cleaner air, and more places to come together socially.
New techniques for a heritage-rich country
Traditional building techniques and materials, and rising temperatures mean that certain parts of cities experience heat stress. These areas are known as "heat islands". With the right techniques and materials, green spaces and cities can be maintained for longer. And withstand the scorching heat, which easily surpasses 30 degrees Celsius in summer.

Greenery provides many functional benefits for vulnerable areas. Adding roof and vertical gardens, pocket parks, green pedestrian bridges and eco-waterfronts, a dynamic green space is born. One where children can play safely, and people can come together to escape the chaos that is a modern day metropolis.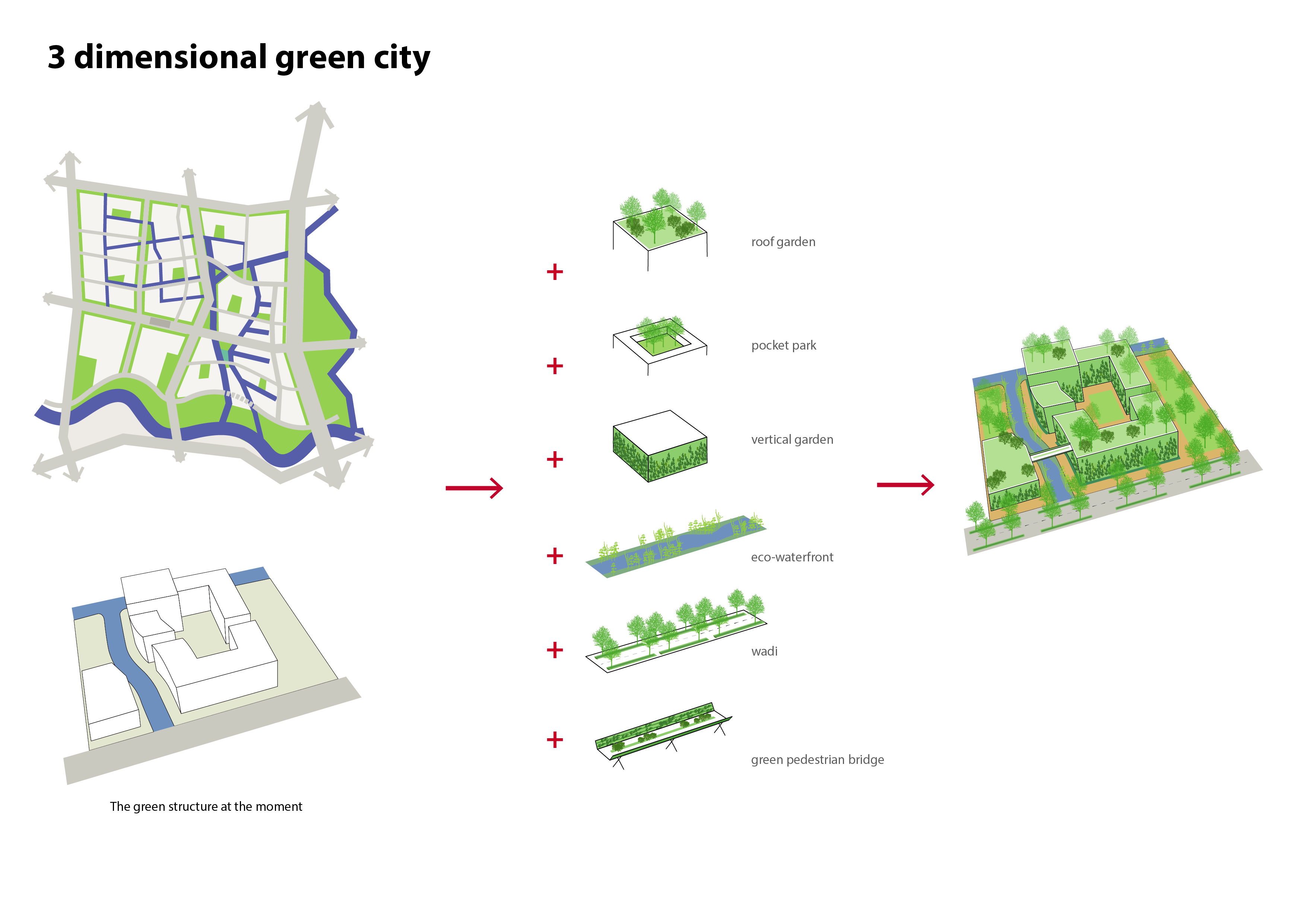 Unique greening methods can help promote a sense of community for those around. In Shanghai, the city is becoming both more accessible and more approachable. With infrastructure that facilitates walking and biking, there are many opportunities for people to lower their carbon footprint and embrace a healthier lifestyle. 
"Local farmers can generate additional income by holding fruit picking events, supplying local restaurants, and running B&Bs. This helps the rural economy, while reducing transportation emissions for farm produce. In addition, this form of recreation enables city dwellers to become more connected to the countryside and raises their environmental awareness."
Let's green cities around the world together!
With universities, local governments, businesses and members of society working on greening cities, we are on the brink of huge urban transformations. Is your city also looking to become greener? Ready to join us in creating green cities of the future? Reach out to your local Dutch embassy to see what we can do together.