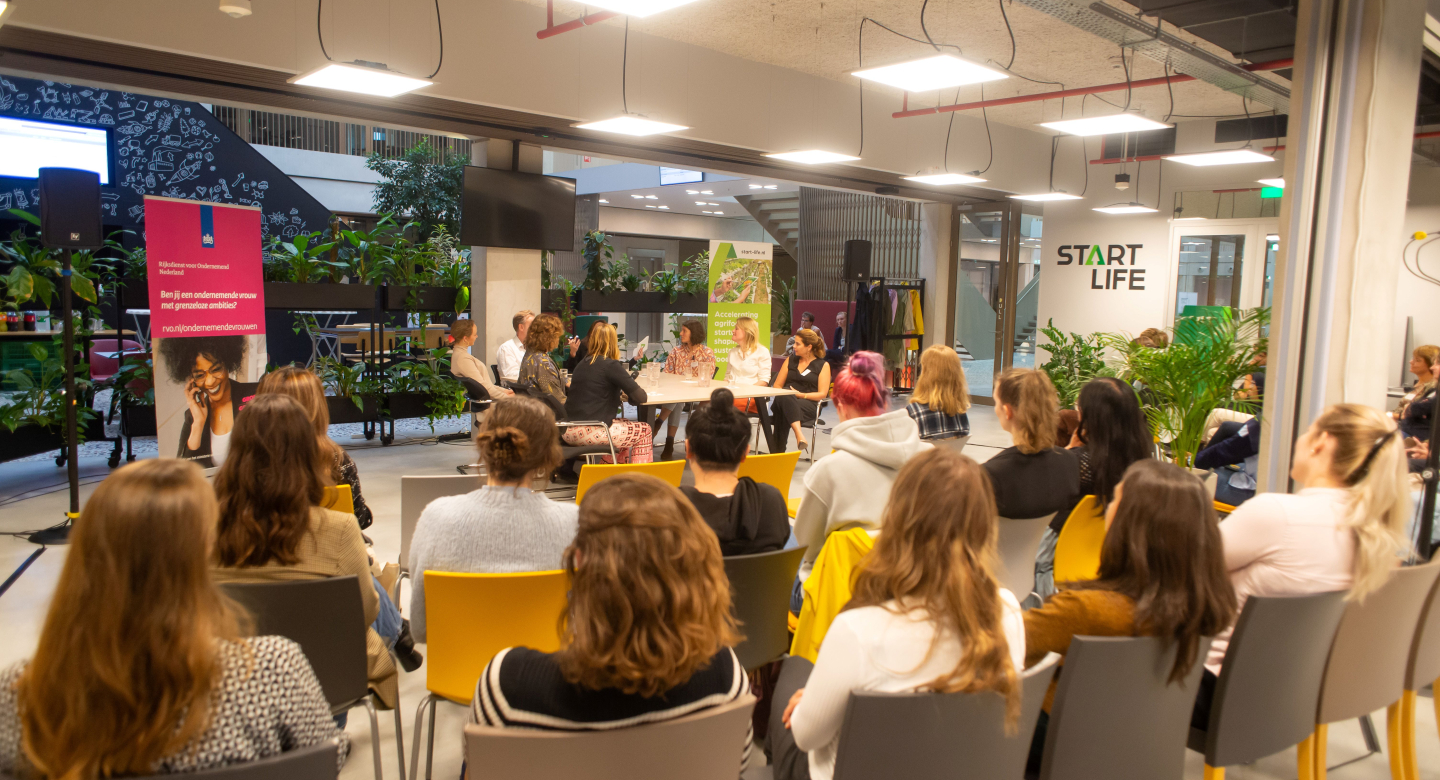 Sustainability champions: Women leading in agriculture innovation
In a world where the demand for agrifood products continues to surge alongside concerns about climate change, resource depletion, and biodiversity loss, sustainable horticulture practices have become an urgent global priority. In the Netherlands, female entrepreneurs are taking the helm in sustainable agrifood and horticulture. 
Image by Circe van der Heijden during an event at Wageningen University & Research. 
"Campus Connect: Female founders embrace global ambition" was organised in September 2023 to encourage dialogue between women entrepreneurs active in the agrifood sector. 
A sector with great potential
The Dutch agrifood sector shines as a beacon of innovation and productivity, crucial for both national sustenance and global commerce. With high-tech greenhouses and international partnerships, it plays a pivotal role in enhancing global food quality and security. In 2021, Dutch horticulture contributed €24 billion to the agrifood sector, comprising various businesses, and accounted for 2.8% of the national GDP. The Netherlands, as a global hub for the trade of vegetables, fruits, and flowers, excels in greenhouse technology and knowledge sharing. Dutch seed innovations bolster crop yields and resilience worldwide. Collaboratively driven, this sector promises a greener, more food-secure future for our growing global population. 
Female entrepreneurs leading the change
In the Netherlands, women entrepreneurs have increased by over 60% in the past decade, totalling more than 700,000 companies. A study by Erasmus University in Rotterdam showed these women-led businesses prioritise societal impact and align with the United Nations' Sustainable Development Goals. However, they still face challenges in funding, with less than 3% of venture capital going to female entrepreneurs. 
That said, it is becoming widely apparent female entrepreneurs bring fresh perspectives, innovative ideas, and an unwavering commitment to building a more sustainable future. This brings great value to the agrifood sector specifically. In fact, 5.4% of all companies with a female entrepreneur are already active in the agrifood sector, compared to 4.1% of companies with male entrepreneurs. Likewise, there are more internationally active women entrepreneurs in the agrifood sector at 10.6% versus a 5.5% share of male-founded businesses.  To strengthen internationally-oriented entrepreneurs even further, the Dutch government offers a suite of initiatives and tools.
Tools for global partnerships
Various Dutch regions offer subsidies and grants to specifically promote sustainable farming and horticulture practices. Female entrepreneurs can tap into these resources to invest in eco-friendly technologies, enhance resource efficiency, and reduce their environmental footprint. For example, OostNL works closely with local and national governments to support entrepreneurs in the east of the country to export their business. StartLife, part of Wageningen University & Research, supports agrifood-tech innovatotion from startups to accelerate the transition to sustainable food systems.
Another great tool is the frequently organised trade mission. Often spearheaded by the Netherlands' Enterprise Agency, the Ministry of Foreign Affairs, and the Ministry of Agriculture, Nature, and Food Quality, trade missions facilitate international collaboration. These missions provide female entrepreneurs with invaluable opportunities to showcase their sustainable products and establish critical connections in global markets.
I do not mind admitting, it all began out of self-interest.
Driving impact over revenue
Dutch entrepreneur Jessica van Spaendonck's success story in sustainability shines through her company, VINADA Wines. Founded in 2017, VINADA offers premium alcohol-free vegan wines, filling a gap in the market. The brand has expanded to over 30 countries and won the Oranje Trade Mission Fund in 2022. VINADA's journey reflects a passion for exporting and promoting healthier choices. Van Spaendonck's advice? "Just do it!" Her vision to raise awareness about alcohol consumption has made VINADA Wines a global name, with support from Dutch agencies and international recognition.
Intense Wines, a sustainable winery hailing from the Netherlands, showcases the remarkable success of Dutch women in the global agrifood industry. Founded by the visionary Janneke Rutten, the winery prioritises eco-conscious practices, including natural pest control, water-efficient viticulture, and reduces emissions. Beyond their vineyard, Rutten and her team actively participate in international trade missions, expanding their business while championing sustainable agriculture worldwide. Their initiatives in South Africa, such as the 2Blossom project, demonstrate their commitment to making a positive impact and serve as an inspiring testament to Dutch female entrepreneurs' international success.
As women, we want to make sure we are creating value. I'm not interested in winning, I want to make impact.
As we celebrate the remarkable achievements of entrepreneurs, let their dedication to sustainability inspire us all. Together, we can join hands with global leaders to tackle pressing challenges and shape a more sustainable future for our planet. The journey to positive change starts with each one of us, and by uniting our efforts, we can make a world of difference. Join us! Let's build a better tomorrow together.