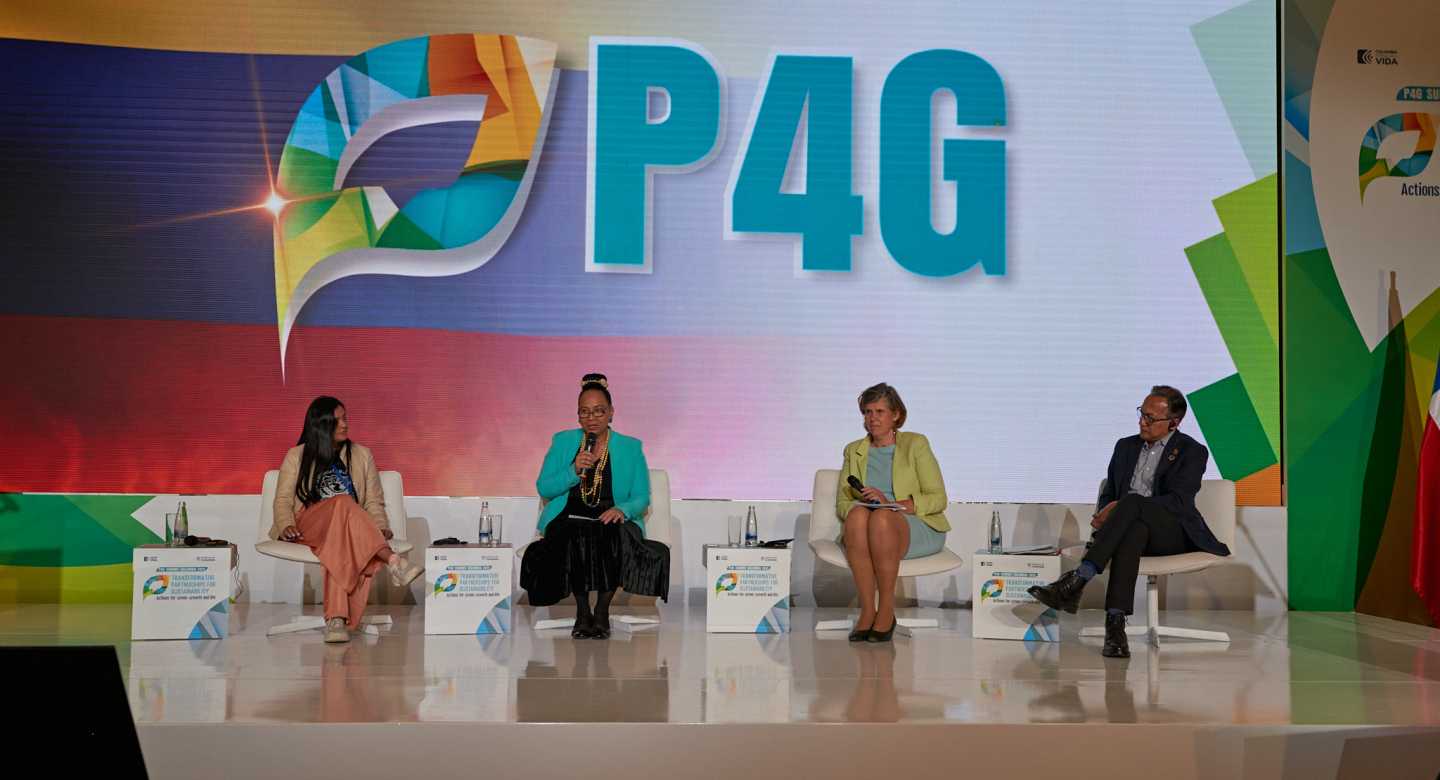 P4G 2023 Colombia Summit Accelerates Climate Solutions
The P4G Colombia Summit brought together more than 1100 government leaders, CEOs, entrepreneurs, NGOs and investors from 24 countries to accelerate climate finance for just transitions. Hosted by the Government of Colombia, City of Bogota and the National Business Association of Colombia on September 22-23, the Summit showcased businesses working on climate solutions, the challenges they face in accessing finance and the enabling policy frameworks required to channel finance to the countries and people who need it the most.   
The value of community-led public-private partnership
The need for a just transition echoed throughout the summit sessions. Bogotá Mayor Claudia Lopez opened the summit by emphasizing the value of community-led public-private partnerships to ensure social inclusion, quality education and good jobs are part of the climate response.  
Framing the summit's focus on implementation, Robyn McGuckin, Executive Director of P4G shared the initiative's approach to supporting climate businesses in low- and middle-income countries with funding, technical assistance and enabling systems support so they can become financially viable and scale their impact.
High level sessions, acceleration roundtables and investor pitches
In the high-level sessions, speakers highlighted the need for new financing mechanisms that can help bridge the climate funding gap. Morten Elkjaer, Senior Vice President of the Danish Investment Fund for Developing Countries (IFU), shared how IFU is looking to establish good relationships at the country level. At the Summit, IFU signed a Memorandum of Understanding with the CleantechHUB in Colombia to drive finance for green entrepreneurship and innovation.  
At acceleration roundtables, 34 P4G partnerships and Colombian businesses shared their business models, results and key challenges with government representatives and investors from across different industries, who then provided suggestions and lessons learned to strengthen their models.
In the Investor Pitch Sessions, representatives from P4G partnerships such as Transforming Africa's Bamboo, Digital Food Rescue and Village Energy pitched their business proposition and received feedback from expert judges from across P4G's partner countries. They emphasized the need for businesses to clarify their specific investment needs and returns, along with the impact the partnership generates.   
P4G Summit in 2025 in Vietnam
Officials from the governments of Denmark, the Netherlands and the Republic of Korea, and WRI, announced their commitment to support P4G for five more years, as it is a critically needed instrument to accelerate climate finance and support in-country transitions in food, water and energy systems in P4G countries. To close out the summit, leaders and youth discussed what is needed for a sustainable future.
The next P4G Summit will take place in 2025 in Vietnam. The government of Vietnam highlighted its commitment to the success of P4G and a summit that would focus on topics such as food security related to hunger, sustainable management, finance for a just transition and global plastics.
The Netherlands is part of P4G and supports the need of closing the climate finance gap. Through P4G, the Netherlands helps climate startups to integrate and accelerate their business models in the P4G countries. Read more about P4G here. Subscribe to their newsletter to learn more about their climate solutions and how you can help support them. 
Missed the P4G Colombia Summit? Don't worry. Watch a recap of the Summit in this video.