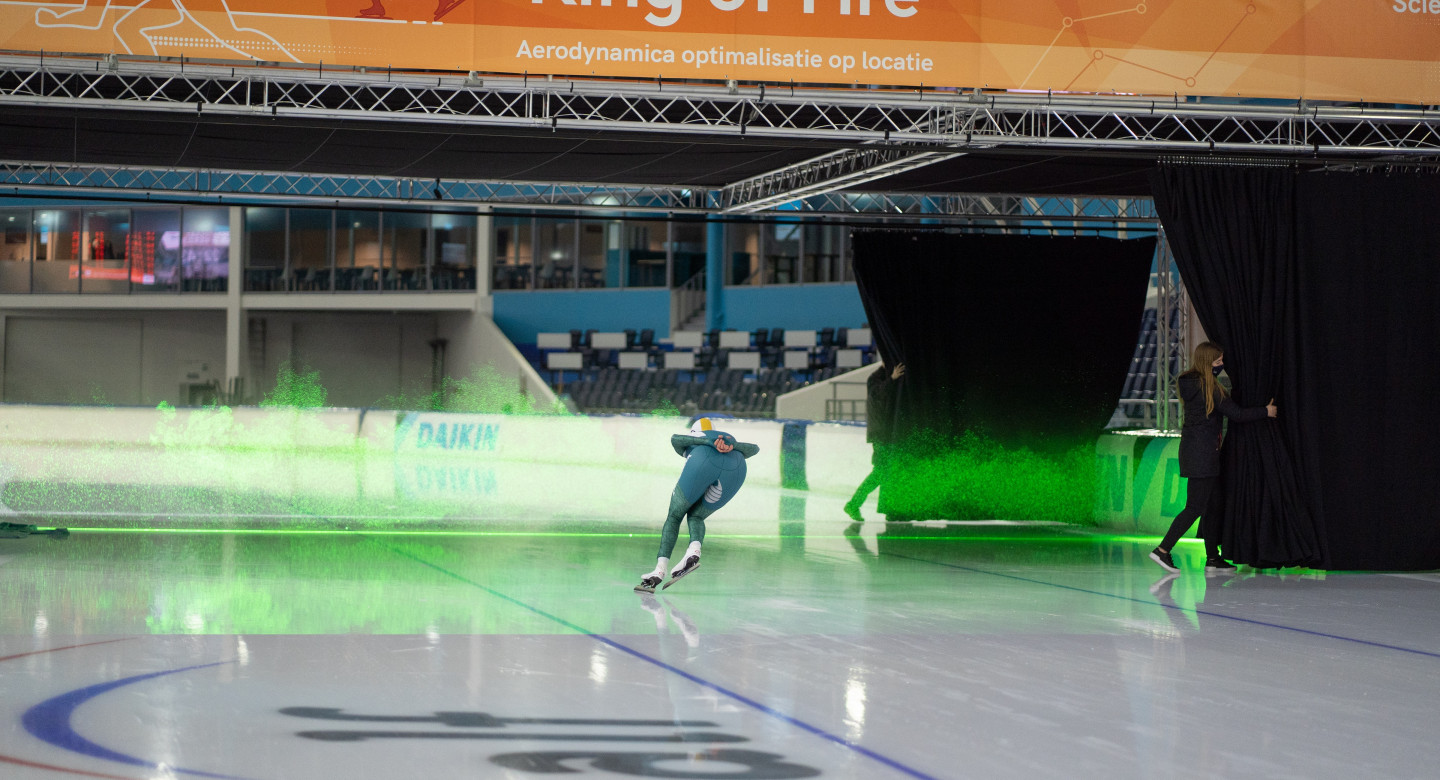 Meet the innovators that shine a light on the Winter Olympics
The winter Olympics in Beijing saw the Netherlands take home a total of 17 medals across events. But behind all the glitz and glory, technology also plays an important role to enable athletes to compete at their best. Let us give you an insight into the innovation that lights our athletes way towards gold.
The Ring of Fire from Delft
How do you measure the aerodynamic performance of skaters on the ice? With a Ring of Fire. Now, what does that mean exactly? The so-called Ring of Fire is an aerodynamic measurement system developed in recent years by a team of aerodynamic researchers from Delft University of Technology (TU Delft). It is a tunnel containing thousands of soap bubbles filled with helium, illuminated by a laser beam. As athletes pass through the ring, a high-speed camera picks up the bubble images. Hence, researchers can visualise the airflow around the athletes while in motion.
Even better: The tunnel does not only detect the air flow around the athletes, but it can also provide the air resistance. This means trainers can aerodynamically compare different skating postures to help them in determine what the best way is for athletes to skate towards glory. So, for example, skating with two arms on the back or with one loose? Now we can find out.
This technology helps researchers understand the fractions of seconds that determine podium success. It can be applied to a variety of sports and is likely to solve challenges faced by international athletes and sports teams. It has certainly boosted the performance of Team NL in Beijing. Built through collaboration for favourable results, this technology is surely at only the beginning of its full potential to help sports innovate globally.
It is a project made possible by the collaboration between TU Delft, NOC*NSF, KNSB and Innovation Lab Thialf.
Lights on the powder
Two things are certain at any winter Olympics: the presence of snow and millions of eyes around the globe watching athletes compete. Lighting choice is therefore crucial to allow athletes to perform at their best. And at the same time, providing the audience with the optimal viewing experience at home or in the stadium.

Dutch multinational company Signify stepped up to the game, by providing a lighting solution that meets the Olympic Games requirements. It brings together a multi-faceted approach with Philips' LED sports lighting as the hardware component and controlled digitally by a sophisticated IoT software from Interact Sports.

Winter sports venues can be very challenging to light up. Icy surfaces that reflect light, steep rocky hills that are hard to cover, and the necessity of long distance signal transmissions to control what the lights are doing. Signify worked together with venues and partners to determine which solutions work here, but also beyond this global event.

At the Genting Snow Park, where the freestyle ski and snowboard events took place, high-speed dynamic lighting control captured the athletes performances at night. The ice at Capital Indoor Stadium was kept highly visible and defined on screens thanks to a lighting technology that has a high speed refresh rate. And at the Wukesong Sports Centre, where ice hockey games are held, the lighting can be adapted to provide an immersive television experience for millions of fans worldwide. Keeping athletes' best interest in mind, the lights achieve a high level of colour reproduction and flicker control. This way, athletes can see things in non-artificial ways and experience little disturbance during their performance.

Signify does all of this in a collaborative way, working with its partners and international venues to develop solutions that fit best for particular situations. They ensure that technology is flexible and energy efficient. And that it enhances operational efficiency and maintenance. It highlights an opportunity for venues across the world to benefit from their plug and play lighting solution. 
Open to solving challenges together: SportsNL
By harnessing the power of public-private partnerships and enabling them to share knowledge, the Netherlands is able to foster innovation further. That is the goal of SportsNL.

SportsNL is a platform to connect like-minded public and private organisations within the Dutch sport sector. It brings together all actors: Dutch companies, government agencies, social organisations, and knowledge institutions. Through their synergy, the Netherlands is able to be a partner for inclusive, sustainable, and innovative (top-level) sport experiences.

The Netherlands is no rookie to the Olympic Games, having previously 'knocked it out of the park' at the Tokyo Olympics and 'changing the game' at the Paralympics. Learn more about how the Netherlands contribute to the world of sport via SportsNL.

Just like a top performing athlete needs a highly-skilled and organised team behind them, so does anyone in the sports industry. If you're looking for a partner to solve challenges in sport and make a difference in our society worldwide, then come on board with SportsNL.

Let's change the game together!