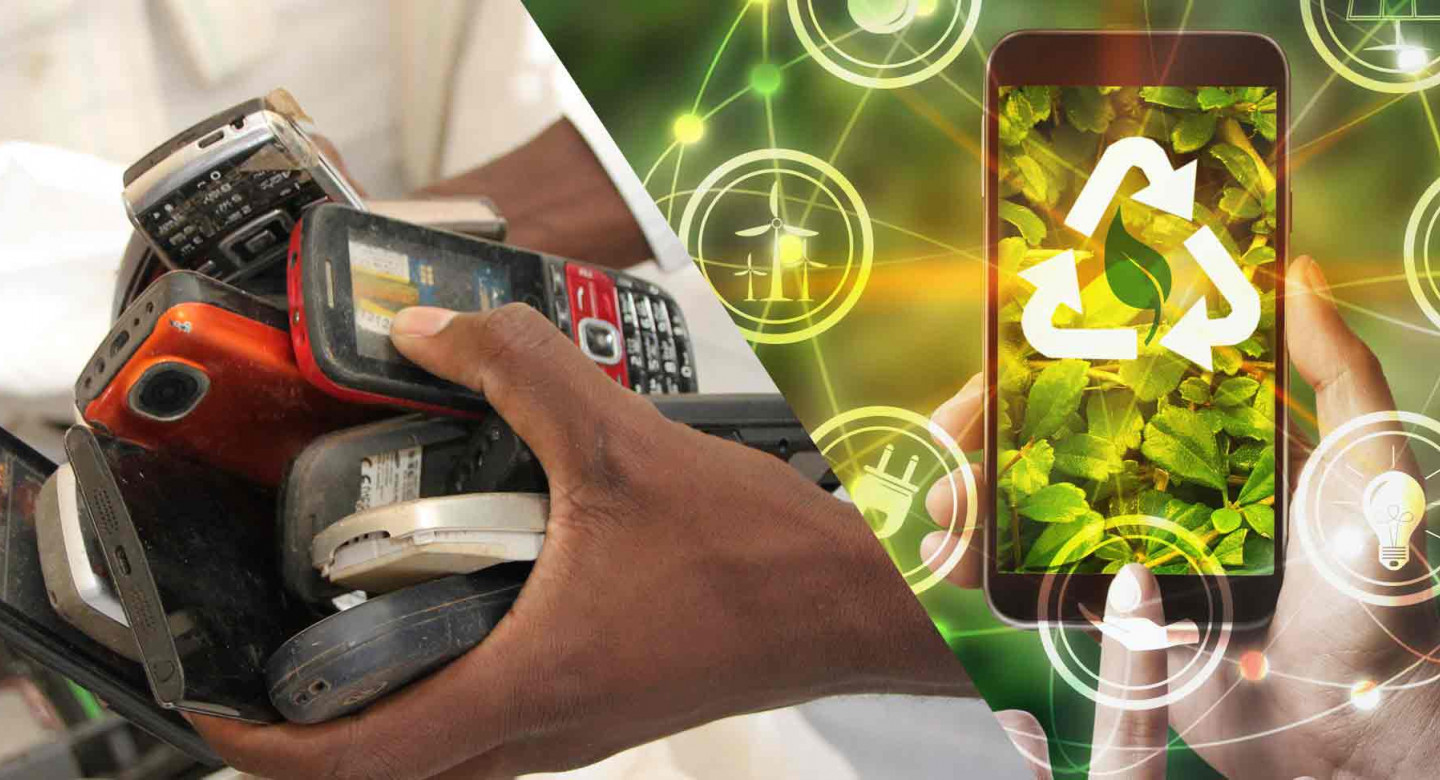 E-waste compensation - tested, proven and safe
Every year, organisations and consumers buy almost three billion mobile phones, tablets and laptops. Increasingly, they appreciate that the products they use are procured sustainably. However, producing electronics in a more sustainable way is notoriously difficult, and the rapid development of technology makes 'e-waste' one of the fastest-growing waste streams. E-waste compensation addresses this market mismatch, providing a great starting point towards more sustainable use of technology.
Waste-neutral tech  – tested, proven and safe
E-waste compensation is a circular service co-developed by Dutch social enterprise Closing the Loop. It ensures buying a new device does not lead to more waste. The idea behind e-waste compensation is simple: every time a new device is purchased, the equivalent amount of e-waste is collected in a country that lacks safe recycling systems. The collected and reduced waste 'compensates' the waste footprint of a new device, making the new device waste-neutral.

Waste compensation turns circular ambitions into tangible results, at a low cost, and in a solid and safe way. It not only protects the environment from hazardous substances while creating local employment opportunities, the service also helps organisations deliver on their growing green and circular ambitions.
"E-waste is often seen as a problem, but it also represents opportunities for green procurement. Shifting e-waste to where it can be recycled in a responsible manner, can give those valuable resources a second life, keeping them in the loop of the circular economy,
The government as a scaling customer
The government of the Netherlands strongly believes in the circular economy. It has determined that by 2022 at least 10% of national spending should be circular. As a scaling customer, the government encourages entrepreneurs to adopt circular business models. Additionally, by implementing those models, it also proves to other governments that these models are safe.

Governments are important procurers of technology and can set an example with regard to circular practices. For this reason, the Dutch government has joined hands with Closing the Loop to work towards a zero waste ICT sector. For every mobile device purchased for civil servants (such as a laptop or a phone), the government funds the collection and recycling of an equal amount of e-waste. Based on the 'TCO Certified Edge' certification programme, the purchase of every new device is linked directly to waste reduction.
Circular waste management and e-waste compensation in international perspective
Closing the Loop is active in eight countries, also offering e-waste compensation services in Europe, the US and Australia. For Closing the Loop's partners in Africa, its circular services have funded the collection of almost four million scrap devices since 2012, showcasing how doing good and doing business can go hand in hand.

In the Netherlands, the government, research institutes and private companies work together to develop innovative and creative waste management solutions. The existence of many different waste management systems fuels a constant process of innovation.

Currently, the Netherlands recycles 80% of its waste. And although our economy is not yet 100% circular, we are working towards a zero-waste economy, within the Netherlands and across borders. As a member of the PREVENT Waste Alliance, Closing the Loop embodies this international mindset. Together with organisations from all over the world, Joost and his Closing the Loop team work to accelerate the transition towards a circular economy. For example in Nigeria, where they improve and scale international financing mechanisms for e-waste compensation together with local and international partners.

Waste-neutral tech is a step forwards towards a fully circular economy. The Netherlands is keen to share our knowledge, experience and best practices with other governments and the rest of the world, so that we can work towards a circular economy together. Let's team up and start today.