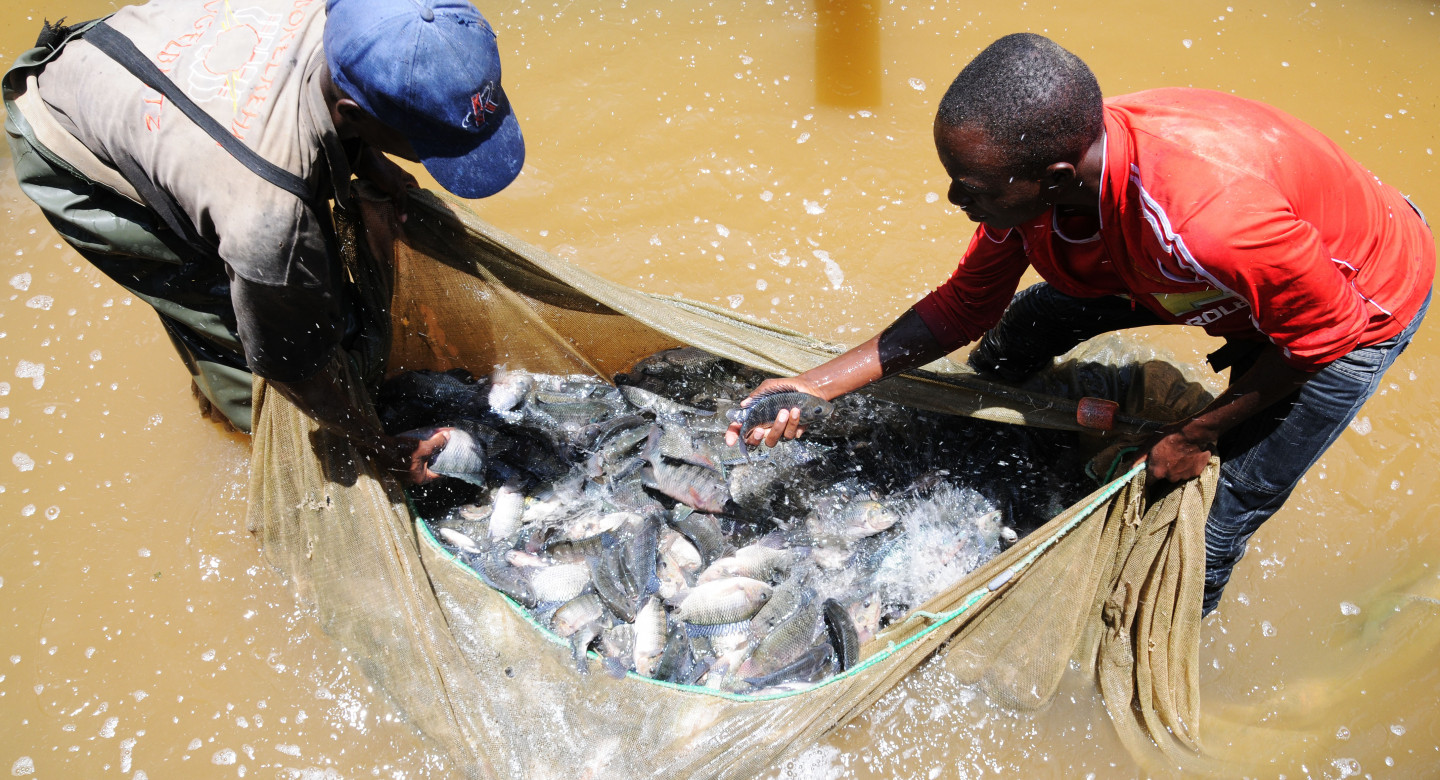 Sustainable aquaculture in Kenya
As the world population increases, so does the need for high quality, safe and nutritious food. Our challenge? To increase supply, without damaging the environment. Farmed fish could potentially meet this growing demand and environmental criteria. In Kenya, FoodTechAfrica works with local partners to develop a sustainable aquaculture sector using localised Dutch technology.
A country with a coastline and access to the world's largest tropical freshwater lake – Lake Victoria –  should not have to rely on fish imports to feed its growing population. Although Kenya has plenty of natural water resources, the country's aquaculture sector is still in its early-development phase. Pollution, overfishing, and lack of enforced regulation negatively influence fish stock, and local fishers are struggling to catch enough fish to make a living.
From egg to market
To help Kenya develop a sustainable and profitable aquaculture sector, in 2013 a group of 21 Dutch and Kenyan companies and knowledge institutions formed the FoodTechAfrica consortium. As they cover the whole fish value chain together, they have developed a strategy for the entire industry – from egg to market. Because producing healthy and high-quality fish requires an all-encompassing plan, from quality feed and seed to technology transfer and knowledge development.

At the centre of the plan is a tailor-made version of Recirculating Aquaculture System (RAS), adapted to Kenyan circumstances. This system allows fish farmers to monitor and adjust water quality, temperature, oxygen, PH and CO2 levels – all to create the ideal environment for fish to thrive. Add a feed factory and a hatchery, and you will get fast-growing healthy fish, which can be delivered to the consumer at a competitive price fast and all year round.
Fast-growing healthy fish are delivered to the consumer at a competitive price fast and all year round
Africa's first certified aquahub
In 2017, FoodTechAfrica's first demonstration farm opened in Machakos. Africa's first fish farm to receive the EcoMark Africa Label, it is a source of pride and inspiration for the region.

The pilot has been very successful: the farm not only showed an increase in production of 50-100 times in comparison to regular ponds, it has also created a flourishing local fish market in the nearby town where people barely ate fish before. So, in addition to improving Kenya's food security, the FoodTechAfrica consortium contributed to the promotion of a healthy, protein-rich diet – another food-related goal the Netherlands is committed to.

The Kamuthanga demonstation farm functions as a hub for other fish farms in the region. In this so-called aquahub model, smaller farms profit from access to knowledge and technology Kamuthanga offers. Kamuthanga currently produces and distributes fish feed and fingerlings and also serves as a learning centre for prospective fish farmers.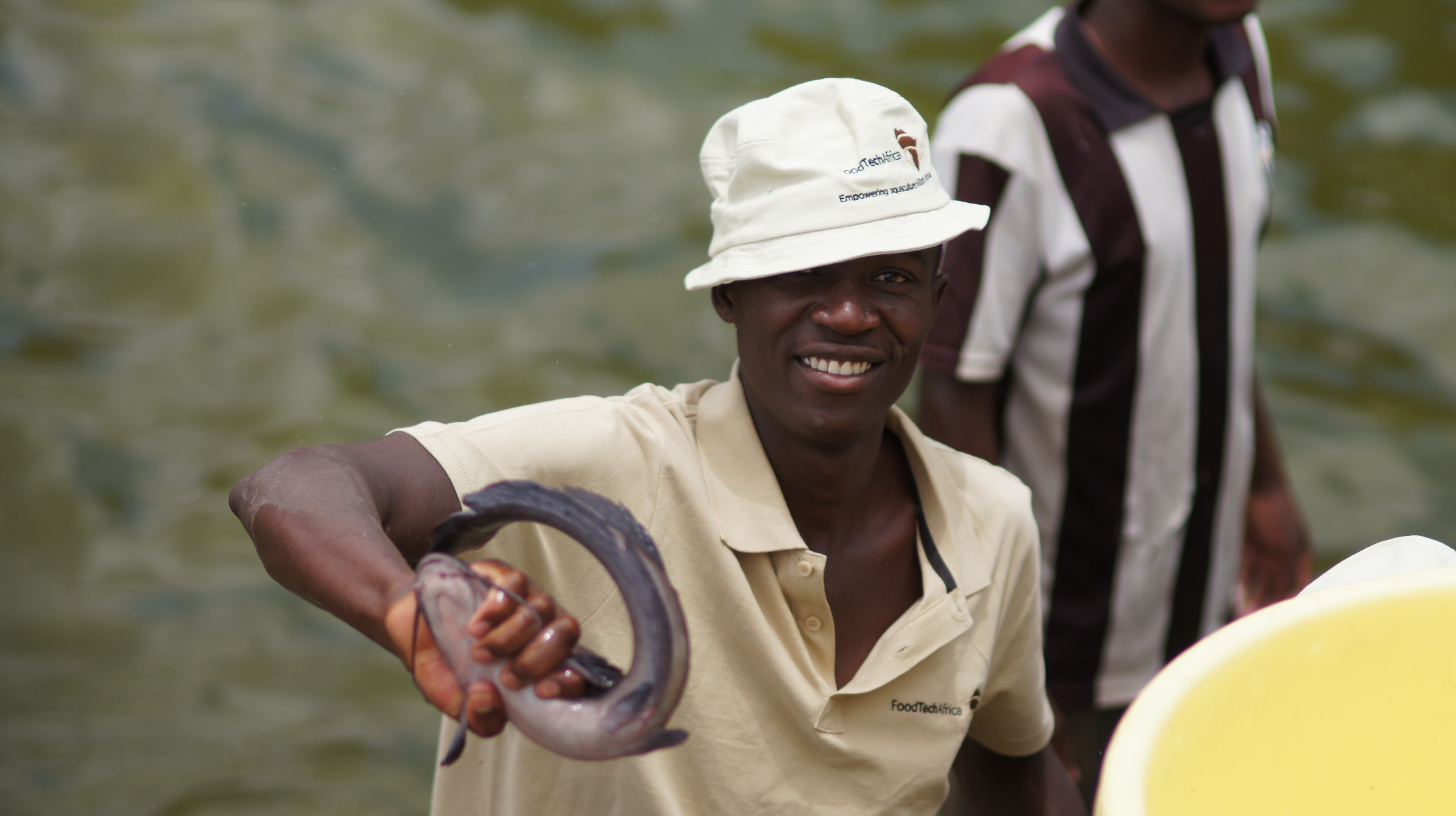 Partnership for sustainable development
At the heart of Kamuthanga's success lies a strong partnership between the Dutch and Kenyans in nurturing the local knowledge with the support of Dutch technology and expertise. Educating young Kenyans and teaching them practical skills to earn a living is but one of many Sustainable Development Goals the FoodTechAfrica consortium aims to contribute to. In addition to fighting hunger, the consortium is also dedicated to improving gender equality (SDG 5), decent work and economic growth (SDG 8), promoting sustainable innovation and production (SDGs 9 and 12), and international cooperation (SDG 17).

The FoodTechAfrica consortium monitors and advises the project when necessary, but locals own and run the farm. In the learning centre, for example, Dutch-trained farm staff educate their neighbours on topics such as farming best practices and innovative farming systems.
Further expansion
After a successful pilot project in Kenya, FoodTechAfrica has expanded operations to Tanzania and Rwanda. In February 2020, an innovative demonstration farm was opened in Kigamboni, Tanzania. Mrs. Zena Mndeme, the director of local partner BigFish: "since the aquaculture sector in Tanzania is at an infant stage, knowledge sharing and practical skills trainings is the secret weapon to unlock the sector's full potential. There are no short cuts for sustainability and profitable aquaculture farming. A farmer has to get good quality fingerings, right technology, quality feeds and farming skills". And despite the different cultural and climatic conditions, this of course is no less true for Kenya than it is for Tanzania.
"Knowledge sharing and practical skills trainings is the secret weapon to unlock the sector's full potential"
Corona and future plans
As a result of the pandemic, fish imports from China have temporarily decreased. This situation has strengthened the conviction and urgency in Kenya to becoming self-sufficient in terms of food production. The benefits of the programme for them are clear: more and better quality food, job opportunities for local fishermen, and increased economic productivity.

FoodTechAfrica has greater ambitions: in the next few years, the consortium's aim is to steadily increase fish production and processing and to increase the number of aquahubs in Kenya and wider East Africa. And although the FoodTechAfrica projects have trained over 1,000 aquaculture stakeholders, the consortium aims to strengthen focus on practical training. An academy will be set up, where farmers, students and others can learn the ropes of fish farming based on international and local expertise. And as feed is a big contributing factor to the price of fish in Kenya, a second feed impact cluster was set up: FeedTechKenya.