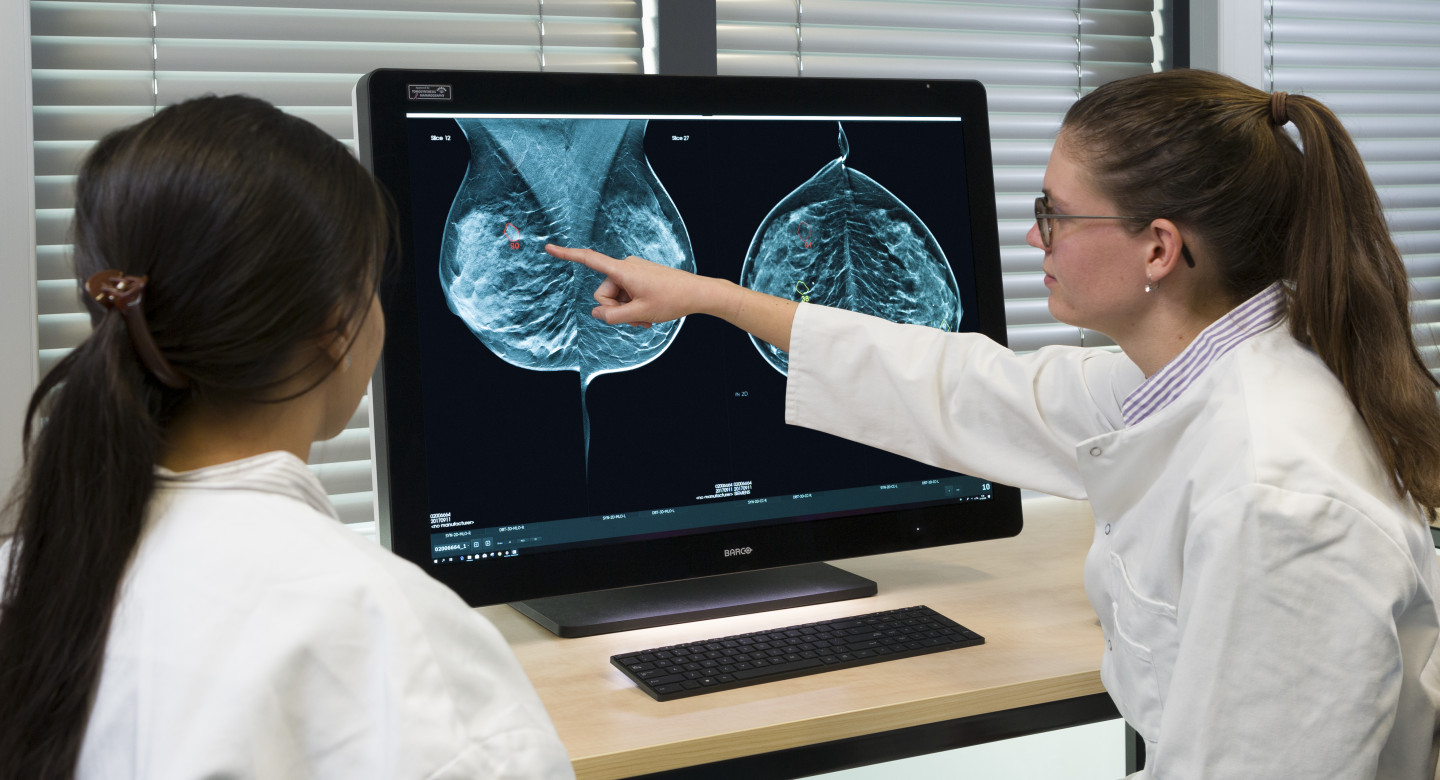 AI breast cancer diagnoses may reduce disparity in women's mortality
Each year, over half a million women worldwide die from breast cancer.  In 2020, 2.3 million women were diagnosed across the globe with the disease, which makes up 11.7 percent of all cancer diagnoses. This places female breast cancer mortality higher than lung cancer and makes it the most commonly diagnosed and deadly cancer. Early diagnosis and screening significantly increase survival rates. A recent independent study reveals that Artificial Intelligence (AI) mammogram assessment systems can increase efficiency and accuracy, potentially saving thousands of lives.
The study tested AI mammogram assessment system, Transpara, developed by Dutch startup ScreenPoint Medical ─ a spinoff of the Radboud University Medical Center. The study showed the AI system to be just as good as or even better than an average mammogram radiologist. The system combines AI with large image databases. This enables it to improve rapidly through deep learning techniques. AI has been shown to cut the high rates of false positives and false negatives in screening, which adversely affect the outcomes of treatment. In the study, six radiologists were tested against the AI system. The Transpara system provided better diagnoses than every single human radiologist. Transpara is currently available in clinics in over 20 countries and the AI system has processed more than a million mammograms.
As radiologist, Dr Jan-Kees van Rooden of the Dutch Southwest region breast cancer screening programme puts it:
"AI is here to stay, embrace it , incorporate it into daily practice."
Resolving the COVID backlog
The United Nation's Sustainable Development Goal (3) includes an objective to reduce premature mortality from non-communicable diseases like breast cancer by a third by 2030. Prevention, such as screening programmes play a vital role in achieving that goal.
Mammograms from screening programmes are usually examined by two radiologists. Advanced technology, such as AI systems could improve both the accuracy and efficiency of breast cancer screening programmes and reduce the workload of the second radiologist by 88%. This would help detect more breast cancer at an early stage, when treatment is more likely to be successful. It would also resolve the shortage of skilled radiologists faced by many regions and help tackle the backlog of diagnoses which has resulted from the COVID-19 pandemic.
"From the studies we did with Transpara, the conclusion was that it could help safely reduce screening workload. This could really help to address the radiology workforce issues that are faced in many countries," says Dr. Alvarez Benito, Radiologist at Hospital Universitario Reina Sofia, Cordoba, Spain.
Disparity in health treatment
There is a huge disparity of outcomes for breast cancer survival rates across different regions of the world. In countries with poor resources, most women are diagnosed when their cancer is already advanced. This significantly reduces their chance of survival. At 10-40 percent, five-year survival rates in these countries are low. In countries where there is early detection and basic treatment, this figure improves to 80 percent.
The International Agency for Research on Cancer (IARC) sets out a number of strategies to reduce breast cancer deaths. They include raising awareness, supporting rapid diagnostics of suspected breast cancers and access to systematic therapy and supporting the completion of treatment courses.
In the Netherlands, women over 50 years of age are called up to be screened every 5 years. This amounts to around 1 million mammograms a year. At present, only a handful of hospitals use AI to assist their screening programmes. In an article on the research in Innovation Origins, Ritse Mann, mammary radiologist at the Radboud University Medical Center strongly advocates introducing AI on a wider basis:
"We are on the verge of a revolution and I expect AI in breast cancer detection to really take off."
Building a fairer, healthier world
On International Women's Day 2021, the World Health Organization (WHO) launched the Global Breast Cancer Initiative to bring down death rates in breast cancer worldwide by 2.5 percent every year until 2040. A widespread roll out of AI mammogram assessment systems could help achieve this goal, improving survival rates of women with breast cancer in particular in regions where outcomes are poor.
World Health Day 2021 highlights the urgency of building a fairer, healthier world. Especially after the COVID-19 pandemic made the health disparities along the lines of gender, race and wealth painfully clear. AI could go some way to helping remove these disparities in female breast cancer and save thousands of women's lives across the world through early detection. If this happens, AI will show how technology in health improves outcomes and saves lives.
Thanks to funding from the EU Eureka Eurostars programme, ScreenPoint was able to initiate close cooperation with the hospital breast screening department of Demark's Rigshospitalet in Copenhagen. Eurostars is administered by the Netherlands Enterprise Agency on behalf of the Dutch government.
Photo: Screenpoint