Keeping up the momentum for research into microplastics and health
Microplastics are everywhere, but we actually know very little about how they affect human health. Dutch consortium Momentum has initiated studies to research the impact of microplatics and health. We spoke with Dick Vethaak (Vrije Universiteit) and Juliette Legler (Utrecht University) about the work of Momentum, which has put the Netherlands at the forefront of this area of research.
Momentum is a public-private consortium of 27 organisations. It is funded by the Netherlands Organization for Health Research and Development ZonMw, Health-Holland and the Dutch Ministry of Infrastructure and Water Management. How important is it to bundle research in this way?
Dick: This is what makes the whole project so powerful. As well as medical researchers, we have involved various disciplines from both the public and private sector, such as researchers in the fields of environmental studies and plastics, and the plastic industry itself.
How did the Netherlands come to be at the forefront of research on microplastics?
Dick: In 2016, we thought that plastic debris could be a human health issue. As a result of our research at Vrije Universiteit Amsterdam, we published an article in the Journal Environmental Science and Technology entitled "Plastic debris is a human health issue". It became clear that microplastics are in the human food chain and airborne. We began lobbying for funding and ZonMw started the research programme Microplastic & Health. In 2019, ZonMW invested over 1.5 million euros in 15 short-term breakthrough projects. These were the first projects of their kind in the world to research the possible health effects of microplastics and health. They resulted in public, private and academic sectors becoming more aware of the urgency of this field of research.

Investment in this type of research should not stop after just a few years, we need long-term research over a 10 to 15-year period. The results of the breakthrough projects led to us being asked to bring together the best researchers and public and private partners in the various fields and establish international cooperation. So, we set up the national Momentum consortium.
Is Momentum working with researchers from other parts of the world? If so where and what kind of interesting research is being carried out elsewhere?
Juliette: Momentum consists of 12 Dutch research institutes and 15 international companies ranging from small businesses to multinationals in North America and Europe. The participating research organisations and the private partners also invest their own budget in the project. It is a condition of Health Holland that 15 percent of the investment should come from industry. Having industry on board helps us research the most relevant plastics being produced. By having private partners involved we can get answers to the most important questions and we have people who are directly involved in plastics manufacturing engaged in the project.
Momentum has received a budget from ZonMw and Health-Holland for 3.4 million euros for a period of 3 years. The basis of this research is 15 research projects that were carried out from 2019-2020 (Microplastics & Health - ZonMw). What are you researching and which health issues have the highest priority?
Juliette: The main objective is to identify the potential human health risks of exposure to microplastics. There is a lack of information on the relationship between microplastics and health. We need to fill the knowledge gaps so that we can improve the way we evaluate the possible threat to human health.
Secondly, we want to provide solutions to prevent health issues arising.
We are building on 3 main conclusions from the 15 breakthrough projects:
We need to improve the detection of microplastics in human beings
Micro and nanoplastics (MNP) have an effect on the immune system
MNPs may play a role in the transport of pathogens into the body
Dick: TNO, the Netherlands organisation for applied scientific research is looking into the fragmentation of plastics. Which plastics are more likely to break down into microplastics and nanoplastics.
"We can then develop scenarios for the increase of microplastics in the environment."
At the moment, the level of microplastics in our bodies is fairly low. At what point do you think they will reach a critical level?
Dick: At present, we do not know where the plastic goes in our body. How much is excreted. How much accumulates in liver, brain and other organs. What the effect is on tissues and cells.
The more exposure a person gets to microplastics, the more likely it will accumulate in the body. So, an older person has probably more plastics in their body than a younger person. Relatively high concentrations of microplastics are released in the home. Microplastics come from the weathering and breakdown of our synthetic furnishings, carpets, paint on the wall, etc. They become airborne and eventually deposit as dust particles on surfaces. Microplastics are everywhere and we are exposed continuously. It is all about how much exposure we get.
Microplastics can be found in the highest mountains, deepest oceans and remotest regions. It is in the water from our taps and even the air we breathe. Thanks to research at Vrije Universiteit Amsterdam, we know that micro and nanoplastics (MNPs) can also be found in human blood. How significant it that?
Dick: As I already mentioned, detecting and quantifying plastic in the human body is quite complex. When we improve these methods, we can study larger cohorts of people routinely. The VU method measured the trace concentration of plastic in the blood of 22 donors. It was a destructive analysis which means that it results in the loss of the plastic particles. It did not reveal anything about the size and the shape of these particles. To do so, complementary methods are needed, and this is what we will try to achieve in Momentum.
Many of today's health issues may also be linked to microplastics. Plastic in our waterways and oceans attracts toxins and pathogens and the plastic itself can contain toxins. Plastic contamination may be connected to infertility, cancers, immune deficiencies or the spread of disease. The research is in the early stages. How will it be used as a basis for finding solutions?
Juliette: Within 3 years, we hope to be able to develop a framework to determine the risks microplastics pose. We do this together with the National Institute of Public Health and Environment (RIVM), who are responsible for risk assessment of chemicals and contaminants.
Dick: We also want to develop and use biomarkers to establish the relationship between microplastic exposure and disease. For example, there are signs that microplastics may influence the development of chronic inflammatory bowel disease.
"Within 3 years, we hope to be able to develop a framework to determine the risks microplastics pose."
Are there innovations that could help prevent health issues arising from plastic contamination?
Dick: Ultimately, the idea is to provide solution routes. For example, innovations for the medical sector, such as tools and techniques to measure and visualise plastic particles in the blood and other organs. When we know which plastics are the most dangerous we can propose to ban those plastics and replace them with circular safe materials. By joining hands with industry, we can provide a roadmap to safer plastics. We call that Safe-by-Design.
"By joining hands with industry, we can provide a roadmap to safer plastics. We call that Safe-by-Design."
How important is raising awareness about the impact of microplastics to your research?
Dick: Raising awareness is crucial. Young people in particular need to reconnect with the natural world. You cannot protect the environment if you do not respect it and have no affinity for it. Only a small group are engaged with environmental issues. Education needs to address this problem. Not just the young people, we all need to realise how important the environment and its services are to human health.
Momentum has been running for a year now. What do you hope to achieve and how do you see the next 10 years?
Juliette: This project needs to be followed up. In 10 years' time, we want to have the tools to carry out a proper assessment of the risks posed by plastics. We need to raise awareness about the effect of microplastics on health.
"And above all, we need to provide solutions for safer or less plastics."
By then microplastic research should be a mature scientific field in its own right. It's fantastic that the Netherlands is among the leaders in this field of research. And we want to make sure we stay among the leaders.
Momentum consortium research into microplastics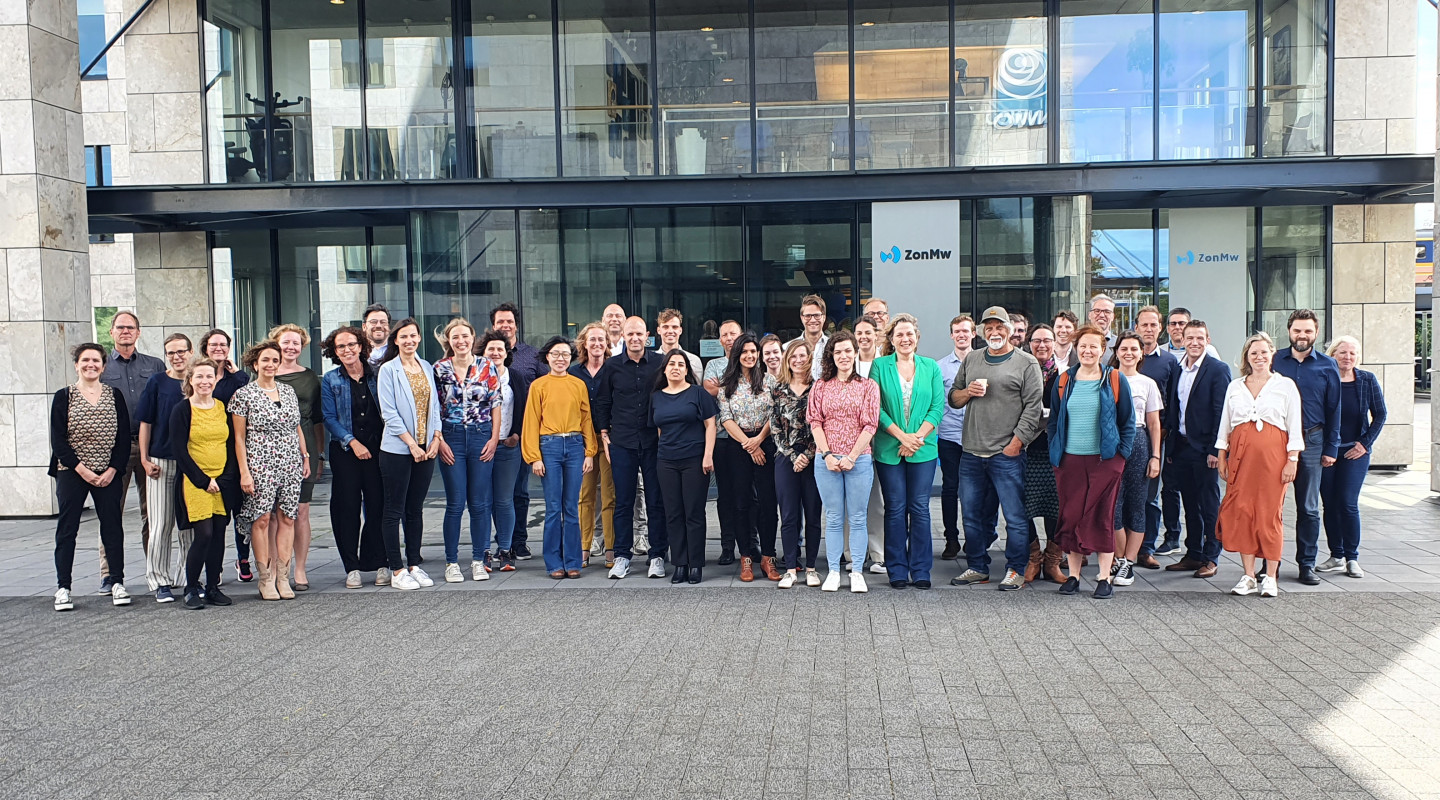 Momentum is a public-private consortium of 27 organisations, funded by the Netherlands Organization for Health Research and Development ZonMw, Health-Holland and the Dutch Ministry of Infrastructure and Water Management.
Read more about: