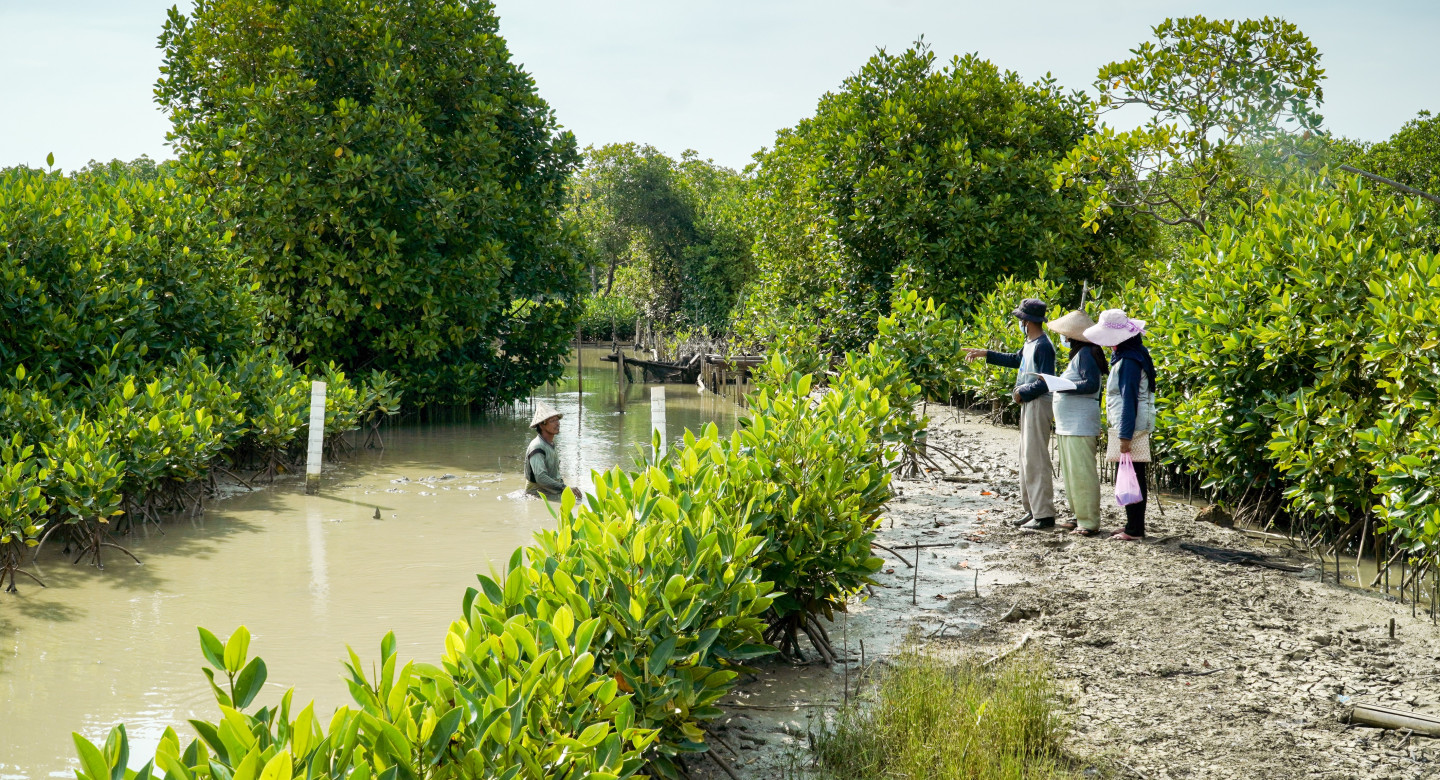 Mangrove restoration: an effective strategy against climate change
Mangroves are under serious threat of deforestation. Why is this important? Mangroves are highly effective carbon sinks, responsible for 40% of greenhouse gas (GHG) absorption in the soil. When mangroves are cut down, they accelerate climate change as they release ancient carbon ─ captured for centuries in the soil and vegetation ─ back into the atmosphere. In the last 50 years, 35 percent of mangrove forests have been destroyed.
Together with our international partners, the Netherlands is helping to restore and protect mangroves from further depletion. Thus mitigating the effects of climate change which cause flooding, extreme weather events and sea-level rise.
Blue Carbon Initiative
The Blue Carbon Initiative* demonstrates the effectiveness of mangroves: oceans absorb over 80% of GHG. While coastal habitats only make up 2% of the ocean, they are responsible for half of the ocean's GHG absorption. In 2019 the UN Climate Change Conference of Parties in Madrid (COP 25) highlighted the importance of preventing mangrove losses and mangrove restoration. At COP26 in Glasgow this week, government leaders and environmentalists will scramble to implement measures to conserve and restore mangroves.
Mangroves have a multitude of benefits. They:
Purify the air and water from pollutants

Act as nurseries for fish spawn

Are havens to 341 endangered species including sea horses, tigers and crocodiles

Reduce the risk of flooding to 15 million people living in coastal areas

Are very effective carbon sinks (capturing four times as much carbon than other habitats)

Temper storms and wave action

Prevent erosion

Protect against soil subsidence

Make communities more resilient to climate change effects.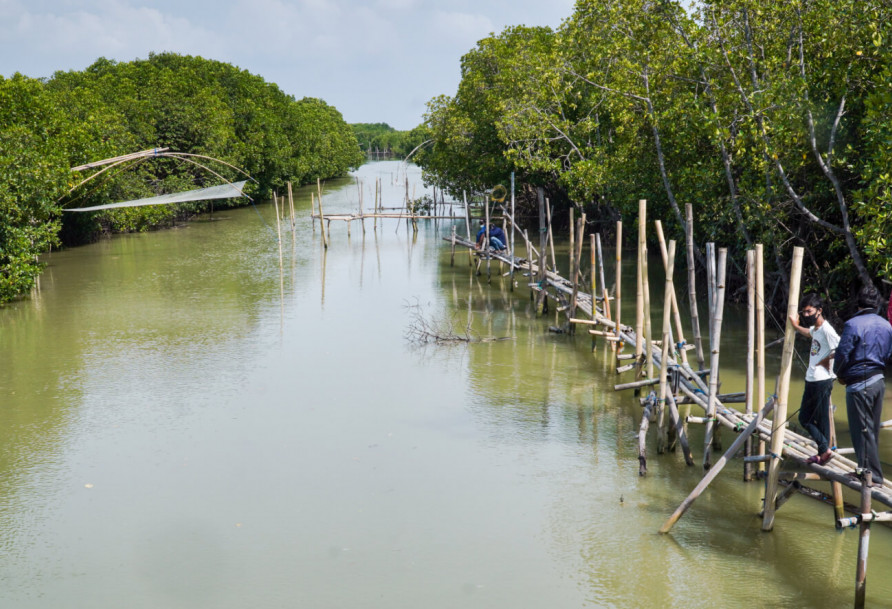 Mangrove loss
Globally over a third of mangrove forests have disappeared since the 1980s, 60% of mangrove loss is due to human activity, such as deforestation, aquaculture and increasing urbanisation. Mangrove loss accounts for almost a fifth of GHG emissions from global deforestation. As well as accelerating climate change, mangrove loss also leads to erosion, flooding, salinisation, sea-level rise and loss of homes and livelihoods – thus increasing poverty and triggering migration of communities.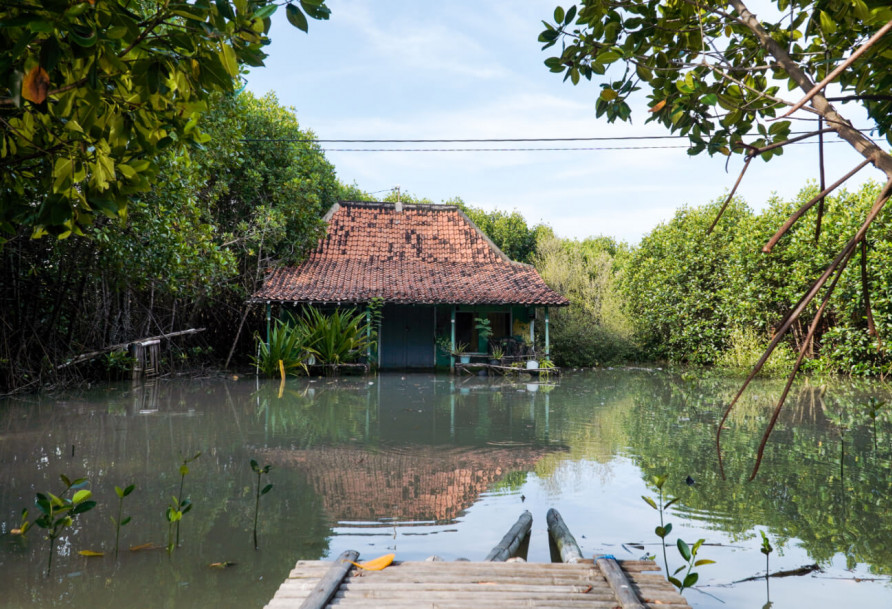 Sustainable communities
However, communities are also at the heart of the solution. Elders remember how the mangrove stretched out maybe 2 km between the village and the sea, protecting homes from flooding and providing local income from fishing and tourism. By using a traditional Dutch method for building permeable dams, local people can easily learn how to restore and protect mangroves themselves. By building a lattice of willow tree branches, sedimentation takes place, reversing erosion. And then local people can replant mangrove trees. Although mangrove restoration projects span across many years, the benefits to local communities are quickly tangible as they reclaim their homes and livelihoods.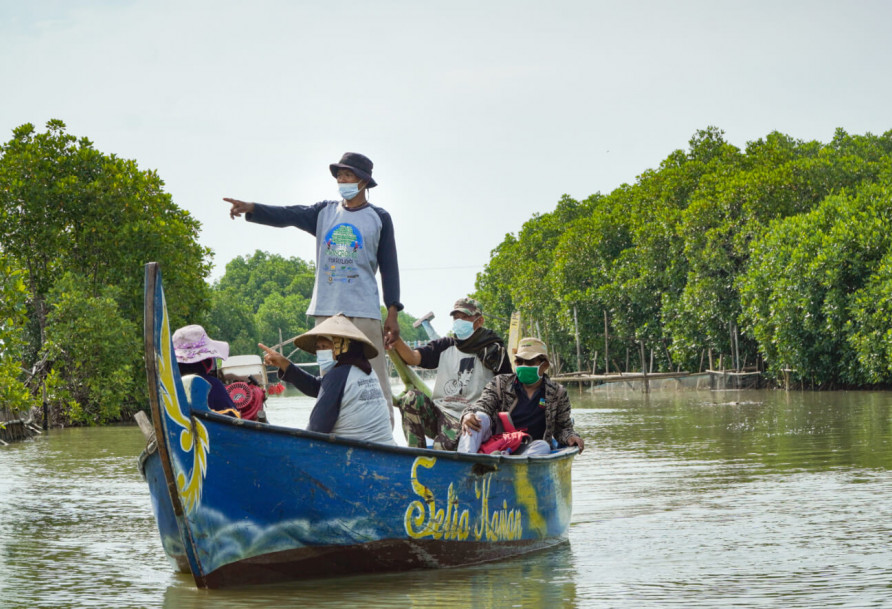 Coastal squeeze
Action to preserve mangroves needs to be taken urgently as they suffer from the coastal squeeze between rising sea-levels and rigid urban infrastructures. As a result of climate change, mangrove forests need to regenerate further inland. According to the Intergovernmental Panel on Climate Change (IPCC) report:

"A one-metre sea-level rise would:
threaten 3% of Cuba's Mangrove forests (300 ha.)

cause collapse of Jamaica's Port Royal mangrove wetland

affect Puerto Rico's mangroves, 62% of which is already eliminated by mankind"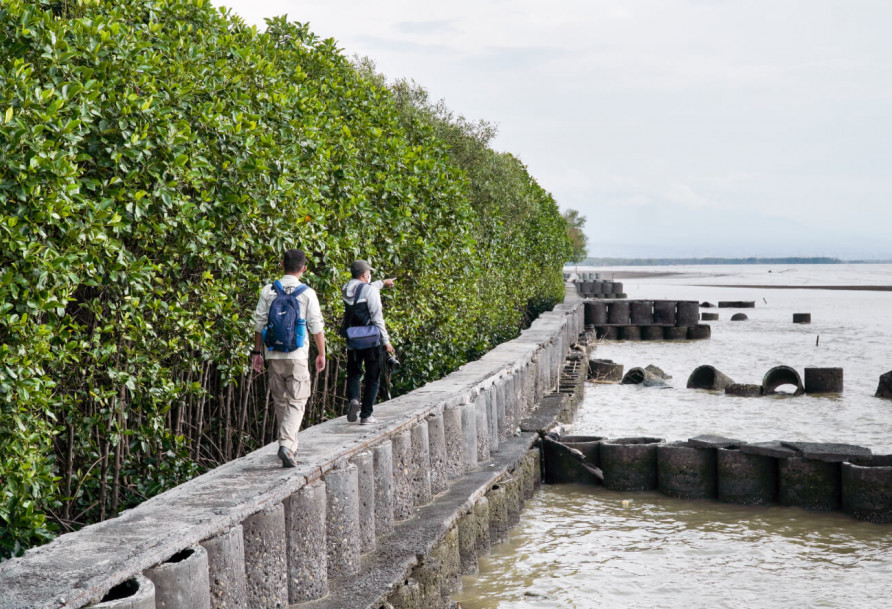 Mangrove restoration
However, there is hope. Worldwide 42% of mangrove areas are now in designated protected areas. In Northern Java, Indonesia, a Dutch consortium Ecoshape** is restoring 20 km of coastline in 5 years together with Indonesian Ministries and community-based actions. Similar work is taking place in Tanzania, Kenya, Mozambique, Madagascar and the city of Shenzhen in China.
International Partnership
Following the COP 25 in Madrid in 2019, the Netherlands became one of the founding members of the NDC (Nationally Determined Contributions) Partnership. This is 160+ member knowledge-sharing organisation which helps countries draft their NDC for implementing nature-based solutions such as mangrove restoration.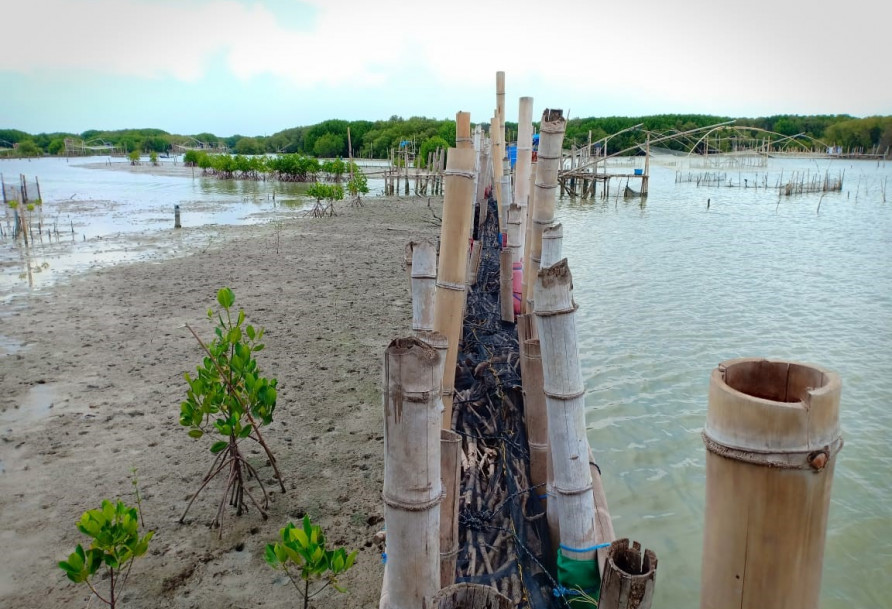 Indigenous and youth rights and leadership
As part of the Year of Action initiated by the Global Commission on Adaptation (GCA), Mexico and Canada launched a nature-based solution action track to accelerate adaptation. The three-pronged approach raises awareness, embeds nature-based solutions into policy and action and mobilises funding. The action track set up a vanguard group of cities in Canada, Ethiopia, Mexico, the Netherlands, and Peru to be presented at COP 26 in Glasgow. It also engaged with indigenous people whose rights and know how, as custodians of the planet, are vital to the implementation of nature-based solutions. Similarly the action track talked with young people, organising a youth conference, as it's our youth who will feel the effects of climate change throughout their lifetimes. Their creativity and leadership will also be a vital part of the implementation of nature-based solutions.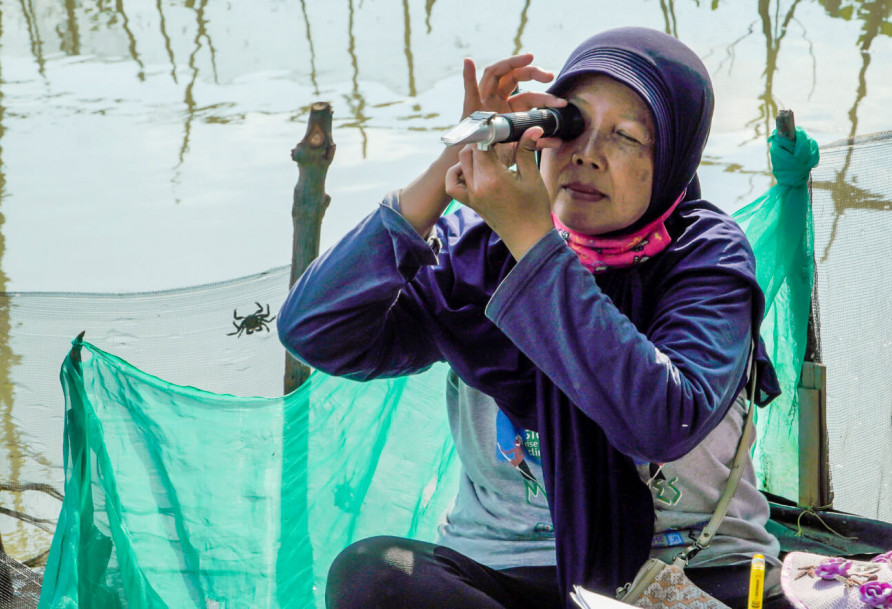 Nature-based solutions
At the climate summit (COP 26) in Glasgow this November, curbing deforestation and adapting and protecting communities and natural habitats are among the main goals, as is working together in public-private partnerships to achieve them. The Netherlands has a key role to play both as a member of the NDC partnership, as home to organisations specialised in providing nature-based solutions like mangrove restoration and though programmes such as the Sustainable Water Fund (FDW).
Join the 'knowledge sharing' community
The Sustainable Water Fund (FDW) supported project 'Building with Nature: securing eroding delta coastlines in Demak District, Central Java, Indonesia' featured at the Climate Summit in Glasgow (COP26) in November 2021.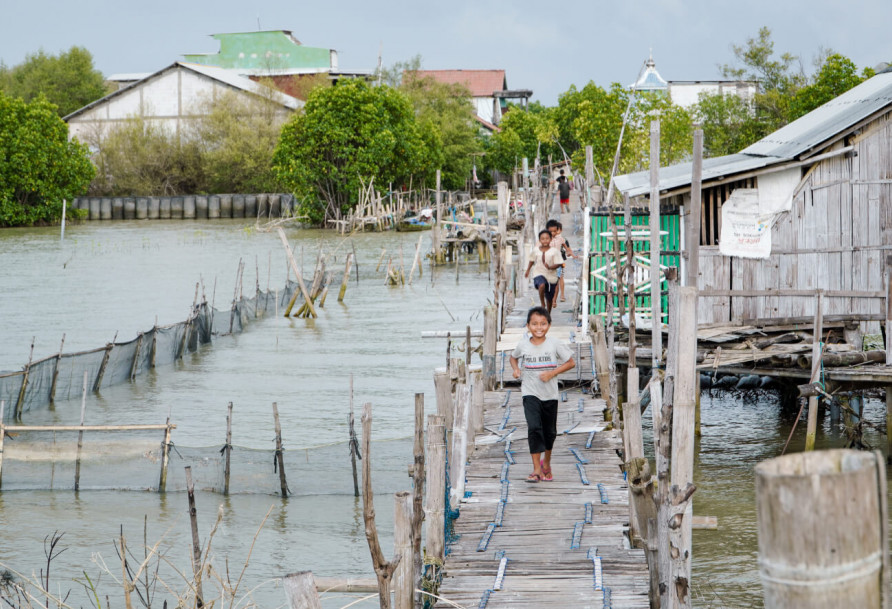 * The Blue Carbon Initiative is a programme to bring together governments, research institutions, NGOs and local communities to protect and maintain nature-based coastal defence solutions such as mangrove, sea grasses and marshes. It is coordinated by Conservation International (CI), the International Union for Conservation of Nature (IUCN) and the Intergovernmental Oceanographic Commission of the United Nations Educational, Scientific and Cultural Organization (IOC-UNESCO).
** Ecoshape is a Dutch foundation made up of 15 engineering consultants, knowledge institutes, contractors and NGOs including Wetlands International and Witteveen en Bos. Ecoshape implements nature-based solutions to help achieve the global goals in cooperation with local communities and governments using Building with Nature principles. It is financially supported by the Dutch Ministry of Foreign Affairs through the Sustainable Water Fund executed by the Netherlands Enterprise Agency.
Read also: World without wetlands is a world without freshwater - Wetlands International
Photos: FDW Sustainable Water Fund - Netherlands Enterprise Agency and Wetlands International as indicated